Our olive harvest continues an ancient tradition.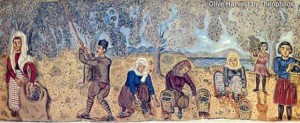 Olives are a magical fruit that tastes miserably when eaten directly from the tree, but as an oil or cured fruit cannot be surpassed.  The oil has been used in rituals for thousands of years and the olive branch has been a symbol of peace and hope referred to in the Bible, the Odyssey and the Iliad. Today it is lauded for its healthy attributes as we enjoy it as a complement to so many of our foods. We've often wondered and imagined how this bitter fruit became a mainstay of cultures.
The olive has co-evolved with humans over the last 5,000 to 6,000 years. At Condor's Hope we have approximately 125 trees planted in between the grapes in our vineyard. We started planting the olive trees in 2000. So they are still very young. There are trees in the Mediterranean as old as 2000 years old. There is wisdom in those branches.
Our 2016 harvest took place Veterans Day Weekend in November. 25 of us came together, as has been done for millennia, to hand-pick the olives from the trees. We harvested 1800 pounds which yielded 33 gallons of oil. Fresh olive oil is peppery and full in the mouth. And Condor's Hope dry-farmed, organic olive oil lives up to the mouth-watering expectations of all of us harvesters.
Thank you harvesters!  We look forward to your return soon! Please enjoy the photos below.
Robbie & Steve