Paella is a traditional rice dish commonly made with seafood from the Valencia region in Spain. At Condor's Hope last yoga retreat Brendan made a decadent paella, beautifully cooked over the grill with the special ingredient, saffron, sourced from a dear friend of Robbie and Steve's in Iran.
Check out the recipe here, and pull out a bottle of Condor's Hope's Pedro Ximénez wine, as it pairs beautifully with this seafood paella. 
This recipe feeds around 30 – you'll want to adjust accordingly!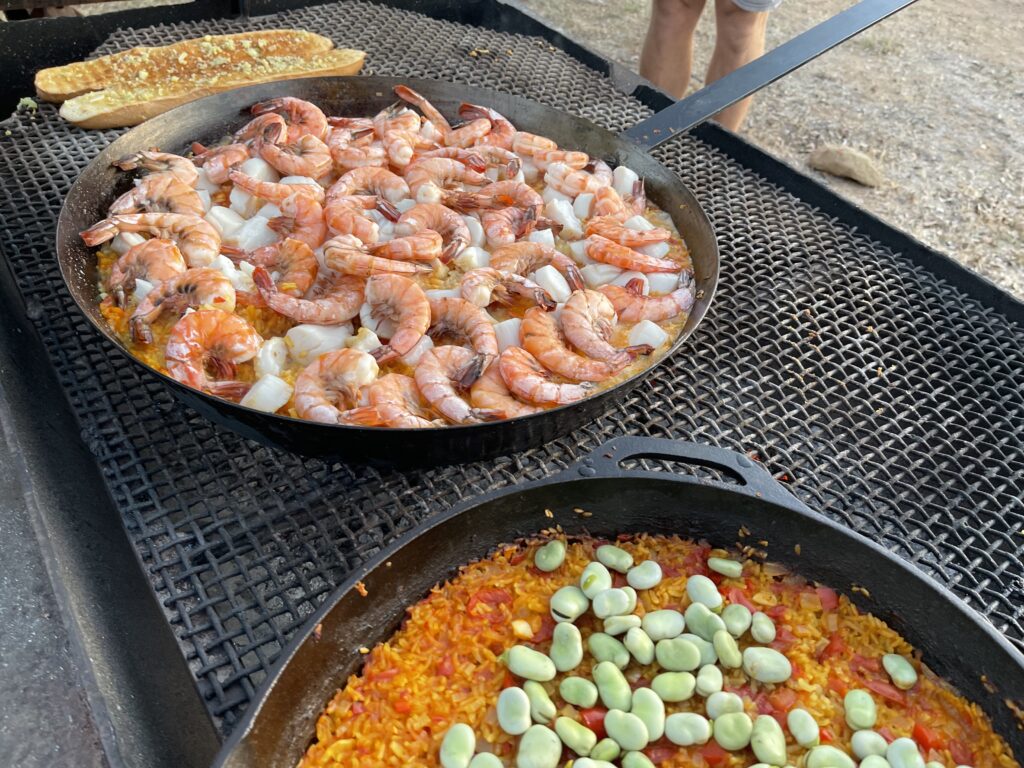 Ingredients:
10 cups calrose rice
10 cups chicken stock
3 cups water
5 cups of roasted tomatoes with juice
1 can of tomato paste
1 cup of white wine (Pedro)
2 heads of diced garlic
1.5 lb of fava beans
3 chopped green bell peppers
2 yellow onions, diced
2 tablespoons of salt
3 hearty pinches of saffron
2 teaspoons of paprika
1 bunch of chopped parsley
Pepper to taste
1/4 cup olive oil
2 lemons
2.5 lb of shrimp
2 lb of scallops
2 lb of from white fish fillet, cut to medium pieces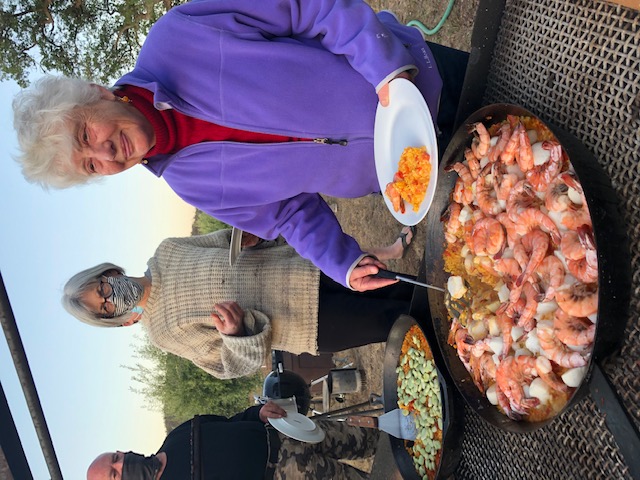 Special Notes:
• Before starting, prepare the saffron as described below.
• Cooking time is approximately 45 minutes. While Brendan grilled his paella over a wood fire, you can grill this on a stovetop or any barbecue grill.
Directions:
Start by heating oil in a pan and adding your onions, Saute your onions for a minute before adding the fava beans, bell pepper and garlic. (Although a paella pan is great to have, no special pan is needed other than one with a lid that will fit your ingredients with room to spare.)
Season the onions, favas, peppers and garlic with your salt, pepper, and paprika. Let cook for a couple more minutes and then add your white wine – saute for 10 more minutes uncovered.
Next, add your uncooked rice to the same pan (you may want to add a little extra oil if you need to beforehand). In this step you are lightly toasting the rice to create a crispy texture. Stir lightly until rice has been toasted.
When your rice is lightly toasted add the chicken stock, water, diced tomatoes, tomato paste, and saffron*. Pour your mixed liquids into the hot pan slowly and make sure to NOT stir the rice from this point on. Not stirring is very important to creating the crunchy bottom layer of rice that is signature to paella!
Cover and let cook for about 15 minutes.
Uncover and add the seafood to the top of the rice, when there is still a little water left in the pan. Cover and let cook for another 20 minutes.
Remove paella from heat – your final step is to add parsley and fresh squeezed lemon juice to the top of your paella and season with salt and pepper to taste.
Buen provecho!
*Preparing saffron: The saffron spice is very potent, and in order to unlock its full flavor we need to rehydrate it. This can be done in two ways. The first is to add your saffron to a few tablespoons of warm water and set aside for 30 minutes. The other is to substitute the warm water for ice water – this method has a better chance at preserving the natural flavor and color, although you will have to steep the saffron for a few hours. When you're ready to add your saffron simply pour the water and saffron mix into the dish.