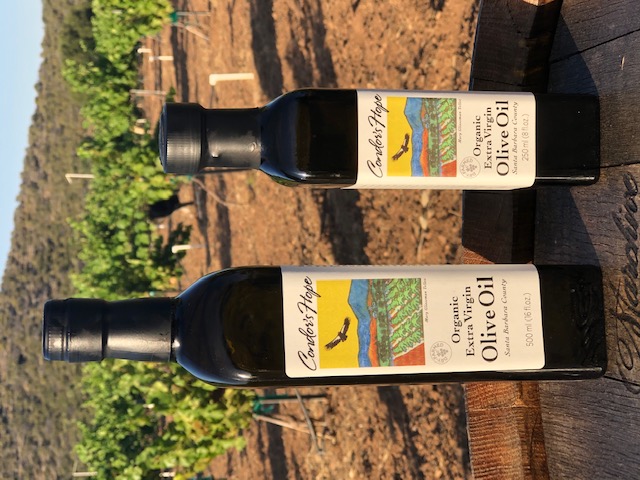 Among our vineyard's five acres of organic, dry-farmed grapes are interspersed rows of olive trees, approximately 150 trees. Growing and harvesting in ways that respect and protect the natural surroundings, we seek to carry on the tradition of producing high quality wines and olive oil as was done in vineyards and olive groves centuries ago. We produce robust, cold pressed, organic, extra virgin olive oil from our organically grown and dry-farmed Italian and Spanish olive varietals. Our hand harvested olives are a blend of six Italian varietals: Leccino, Maurino, Coratina, Frantoio, Itrana, Pendolino, and the Spanish Picual.
Note: Our 2021 harvest is sold out. Our next harvest will be in November 2022 and should be available for sale by Thanksgiving 2022.
---
2021
We are thrilled to share with you our certified organic, extra-virgin, dry-farmed olive oil. Use this grassy, peppery, unfiltered oil directly on salads, topping for soups and veggies and, of course, with your favorite bread. Unlike wine, it is recommended that you use olive oil within the first year of harvest, since it loses its vibrancy over time. Hand picked November 2021 and immediately milled at Figueroa Farms in Santa Ynez Valley.
250 ml Bottle - Case*: $18/ Wine Club: $15
500 ml Bottle - Case*: $33/ Wine Club: $28
*Case Discount applied when ordered as part of a 6 bottle mixed order.
SOLD OUT