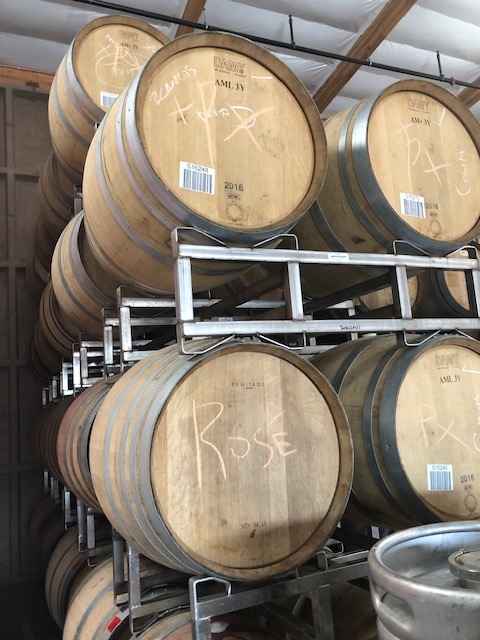 The 2021 Vintage was bottled in September 2022. We are very excited to share with you something new, as well as the return of a classic old favorite. While the 2021 drought year produced very high quality grapes, with small bunches and high skin:fruit ratio, our yield was the lowest ever, which both means that the 2021 vintage is to be savored and that there will be minimal available. These wines have been crafted by winemaker Colin McNany with creativity, care and desire to preserve the taste and quality of Condor's Hope grapes. We look forward to sharing these wines with you, our community, and know you will appreciate the care, worry, and love that has gone into every sip you take. We expect to start releasing some of these varietals with our December 2022  Club Condor Selection.
---
2021 Pedro Ximénez - Orange Wine Style
We chose a different winemaking approach for this high quality, condensed grape. Using a 100% whole cluster fermentation on the skins for 14 days, winemaker Colin McNany used a red wine process (keeping the skins and stems in the fermentation) to produce a wine that fully expresses the personality of the varietal. Light adobe clay in color, aromatics of Asian pear and spices fill the nose, complemented by a minerality on the finish. Enjoy alongside tapas or grilled fish. Unfiltered. Only 23 cases produced. Expected release date: December 2022.
2021 Zinfandel
For the first time, and because we had such a small harvest of Shiraz, we have blended our Shiraz grapes with our Zin creating a dark, textured wine with savory blue fruits and a tight tannin structure. The Shiraz, under carbonic fermentation for 14 days, waited for the Zin to be harvested. The two lots were then co-fermented 100% whole cluster. This enticing Zin blend brings the full complexity of dry-farmed grapes to every sip. Since the percentage of Shiraz was so small, we continue to call the wine a Zin. Enjoy with pastas, savory meats, and curries. Zinfandel 85%. Shiraz 15%. 48 cases produced. Expected release date: Spring 2023
2021 Mentor's Old Vine Zin
It's back! The last year we were able to obtain grapes from Benito Dusi's ranch in Paso Robles was 2016. Our mentor Ben, who shared so much of his knowledge of dry farming grapes with us—from pruning to cultivation to harvest—passed away in 2019. Now his nephews continue the dry-farm practices in this 100-year old Dusi family vineyard. We are very pleased to share with you a fine, dry-farmed old vine Zin crafted by Colin McNany to bring out its full-bodied depth, its fruit-forward intensity, and its spicy finish. Enjoy with special meals where you want the memory to linger. 48 cases produced. Expected release date: December 2023