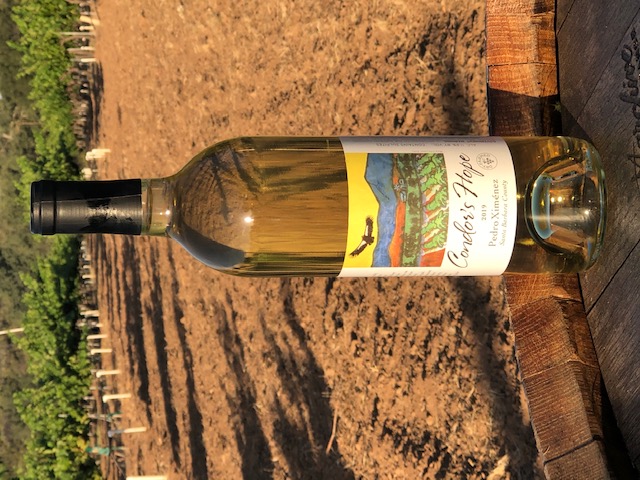 A truly unique white wine. Traditionally grown throughout much of southern Spain, this variety thrives on heat and dryness. We are one of the few producers of this wine outside of Spain. Grown on our certified organic, dry-farmed vineyard in Santa Barbara County.
---
2020
Our dry-farmed practices in this extremely dry climate bring out the best in this unique white wine. To intensify the expression of the grape's origins from the Arabian Peninsula, the fruit was foot tread and sat on skins for 24 hours before pressing. This was followed by barrel and malolactic fermentation with indigenous yeast.

Grapes: Condor's Hope dry-farmed, organic Pedro Ximénez grapes

Harvest: October 1, 2020 19.5 Brix       3200 pounds

Alcohol: 11.8%

Winemaker: Colin McNany, Coastal Cru Wines, Buellton, CA

Bottling: April 18, 2021, 75 cases

Characteristics: This dry white wine brings forward the essence of stone fruit and honeysuckle, complemented by a minerality in the finish.
SHOP
2019
Our goal with this unique white wine was to get more Pedro Ximénez expression into the glass. To capture the varietal personality in the skins, half of the fruit was foot tread and sat on skins for 24 hours before reuniting with the entirety of the vineyard and going to the press. The juice was then barrel fermented followed by malolatic fermentation, all achieved through indigenous yeast. Made from the Andalusian grape, this wine with dry minerality and citrus overtones will bring a smile to your lips and relaxation and joy to your mind.
Winemaker: Colin Mcnany
120 cases. 11.8% alc.
Retail: $27 Case: $26 Wine Club: $22
SOLD OUT