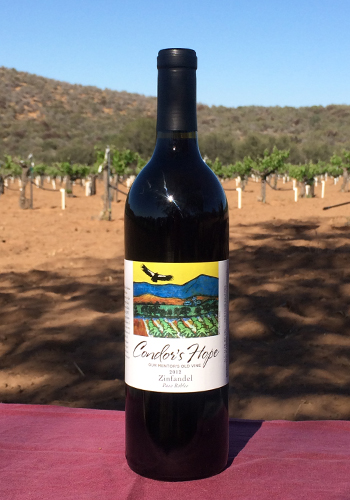 Benito Dusi grew up on the vineyard that his parents planted in 1923 in Paso Robles, California. He carefully tended these Zinfandel vines until his passing in 2017. This original Dusi Vineyard is grown in the traditional dry-farmed, head-pruned style. We met Ben when we began planting our vineyard in 1997. He became our mentor, teaching us these traditional techniques to use at Condor's Hope. We are very pleased to be one of the few small producers of wine from Benito Dusi's old vine Zinfandel. Grown in Paso Robles and kept in American Oak barrels for over 20 months. Winemaker: Colin McNany, Coastal Cru Wines.
---
2021
Dark berry, mahogany and tobacco aromas kick off the nose of this bottling. The palate is quite rich with balanced tannins framing the berry jam, caramel and roasted meat flavors. This is for those special meals that you want to last the whole evening with the memories of the wine lingering in your mouth and heart. Of course, like all Zins it pairs beautifully with chocolate desserts. Wine Enthusiast Rating: Excellent, 91 Points
SHOP
2015
This 4th year of drought produced small, concentrated grapes for both the Dusi and our dry-farmed vineyards. (The 6 and 12 bottle Selections will be able to compare the 2015 Zins from both vineyards.) From our first taste of the Mentor's Zin we knew we had a vintage to savor. You can open it now and enjoy a complex, deep, well-balanced Zin with a dark chocolate finish. And you can lay this wine down for years to come. For all of you Zin lovers, we think you'll agree with us that this is a 'Zin Zenith!'

SOLD OUT
2014
This vintage produced in the third year of drought concentrates raspberry and cherry with the classic spicy Zin finish. With its traditional Old Vine complexity, this special wine will complement most meats and pasta dishes, but is extraordinarily best with anything chocolate.

SOLD OUT
2013
Second year of drought gives the intensity that comes with smaller fruit. The black cherry essence finishes with a cinnamon spice. Full-bodied and complex, this Zin will complement a very special meal and will linger through the dessert. Time will bring jam and complexity to this wine.

SOLD OUT
2012
A drought year brought the fruit of black cherries forward in this excellent example of an old vine Zin. Full bodied and complex, this Zin will fill your mouth with smooth fruit and spice, with a hint of chocolate on the finish. 45 cases produced.

SOLD OUT
2011
The wisdom of the vines comes through in a full body and lingering richness. Expect raspberry jam, a complex structure, and pepper on the finish.

SOLD OUT