A Wine Tasting Experience in the Vineyard
---
Join us in the Cuyama Valley for a tasting of our organic, dry-farmed wines!
Reservations are required
To request a visit, fill out the form below and our events coordinator will contact you shortly. Please note dates we are closed listed below. Thanks!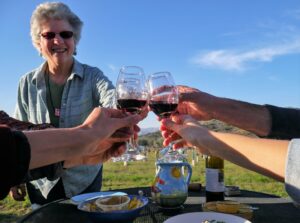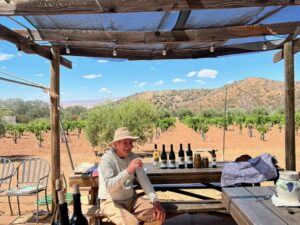 Enjoy a fun learning experience with farmer-owners Robbie Jaffe and Steve Gliessman as they share with you their climate-appropriate dry-farmed vineyard and taste the vineyard's wines and olives on stunning acreage in the Sierra Madre foothills.  Schedule a two-hour visit that includes a personal tour of the vineyard, followed by tastes of our unique, small batch produced Condor's Hope wines and olive oil paired with home-made appetizers.   

Visits are $35 per person for 1-2 people;  $30 per person for parties of 3 or more. No fee for wine club members. Children are welcome!
---
Our Vineyard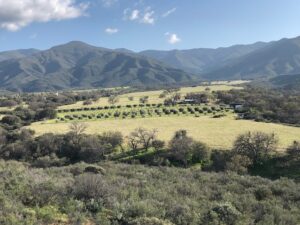 Condor's Hope Vineyard is a five-acre, family-owned vineyard grown using traditional dry-farm practices. This produces full-bodied, bold, complex wines while protecting the environment and conserving water. Dry farming allows farmers to grow grapes and olives with little or no irrigation. Condor's Hope is a place where owners/farmers, Steve Gliessman and Robbie Jaffe, put the principles of ecology to practice bringing together their love of farming, the environment, and community.
---
Location
Condor's Hope Ranch is located in the foothills of the Sierra Madre Mountains, near Hwy 166 in the Cuyama Valley in Northern Santa Barbara County. Our five-acre vineyard is in a natural setting adjacent to the Los Padres National Forest. We are off the grid and completely solar-powered.
We're conveniently located in the middle of nowhere for that true get-away feeling!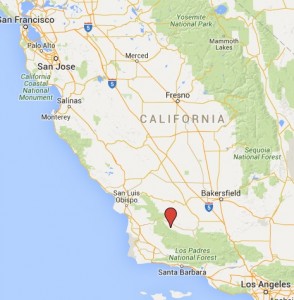 Driving Times: (approximate)
25 minutes from New Cuyama
1 hour from Santa Maria
1 hour from Bakersfield
1.5 hours from San Luis Obispo
2 hours from the city of Santa Barbara
3 hours from LA
4.5 hours from Santa Cruz
5 hours from San Francisco-Berkeley
---
To request a visit, fill out the form below and our events coordinator will contact you shortly.
We are generally open Fridays through Sundays. Sometimes we can accommodate  a weekday visit if that's when you are in Cuyama.
You can also enjoy our wines at the Cuyama Buckhorn restaurant and bar.
We will be closed for tastings June 9th through July 18th.
We do hope you enjoy your stay in the Cuyama and that we can arrange your visit to Condor's Hope.