Our olive harvest weekend is now full, but feel free to fill out the form below to be placed on our waitlist!
Condor's Hope Vineyard
November 9th-12th, 2023
From late afternoon Thursday, through Sunday early afternoon
---
You're invited to our community olive harvest!
Please join us for this fall celebration! Think…olives, people, good food (and wine!), beautiful sunrises and sunsets, and much more. Come together with amazing folks to bring in this beautiful harvest.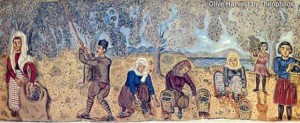 During this November event, we gather around the olive trees and hand-harvest the fruits as has been done for centuries. We provide the food and wine. You'll join in the harvest and have the chance to build new community along the way.
Spend the long Veteran's Day weekend. There is plenty of space to camp in the vineyard. Several private rooms are available as well. For those who can arrive after 4 pm on Thursday, we will have dinner and then begin harvesting Friday morning. We know that not everyone will be able to arrive then or spend all four days with us. We invite you to attend for the days you are able. When filling out the registration form below, please be as detailed as possible about your arrival and departure plans. We will harvest through Sunday afternoon with lots of fun and food throughout.
Reserve your spot for the harvest by completing the form below. Bring your friends! There is no fee – just bring your good energy.
The harvest will happen rain or shine. We will confirm your reservation within 48 hours of you registering, and one week before the harvest we will send out an additional confirmation with details. Children are welcome. Unfortunately, we can not accommodate any pets at Condor's Hope.
Note: If you don't receive a confirmation within 48 hours, please email us at events@condorshope.com. Sometimes we have not received completed forms.
We are looking forward to seeing you at the harvest!
Robbie & Steve
P.S. Be prepared for cool nights. Bring lots of layers, warm sleeping bags, and a waterproof tent!