Two events this spring are in collaboration with Cuyama Buckhorn Inn. These are weekend long experiences with a two-night stay at Cuyama Buckhorn and curated events at our vineyard.
Cuyama Buckhorn is a timeless roadside resort in the heart of Santa Barbara County's high desert. The iconic property, originally built in 1952, has been re-imagined as an elevated retreat nestled in The Hidden Valley of Enchantment, with thoughtfully crafted meals, a bar where conversation flows effortlessly, 21 newly refined rooms with stylistic nods to the past, and 2 acres of artfully designed outdoor space. The food, design, and creative spirit of Cuyama Buckhorn is inspired by the rich history of the local community and the bounty of Cuyama Valley.
This resort retreat boasts a full service, farm-to-table restaurant and bar, a craft coffee shop, and a market featuring house-made and local products. Wanderlust seekers can also enjoy a glistening pool to splash into under the warm California sun, a spacious jacuzzi to warm up in on cool desert nights, a barrel sauna with sunset views, outdoor fire pits and games to bring together friends new and old, as well as plenty of event spaces to celebrate the beauty of this unmatched haven.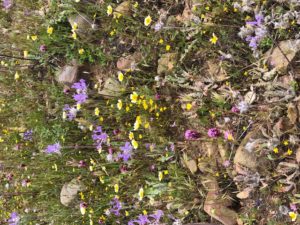 April 16th-18th                 Wine & Wildflowers Experience
Enjoy a wine and wildflowers filled weekend to celebrate our valley's beautiful spring blooms with a specially-curated experience by Cuyama Buckhorn, complete with an afternoon at Condor's Hope Vineyard for a vineyard tour and wine tasting. Learn more and register here.
June 4th-6th                     Mediterranean Meals Experience
Enjoy a weekend filled with amazing Mediterranean meals and be a part of the meal making process! Cuyama Buckhorn is putting together a culinary focused weekend complete with a day at Condor's Hope for dolma-making in the vineyard, beginning with harvesting the grape leaves and followed by a Mediterranean lunch featuring the dolmas you make during the day, paired with wine tasting. Follow Cuyama Buckhorn on socially media @cuyamabuckhorn, or visit their "Happenings" page on their site to learn more and register for this special experience.  This event will be posted soon.
Condor's Hope Vineyard and Cuyama Buckhorn are both committed to following Covid-safe protocols. We will adapt our protocols based on the most up-to-date recommendations at the time of each event. In the meantime we hope you stay well. We look forward to seeing you this spring in the Cuyama Valley.
We hope you can join us!