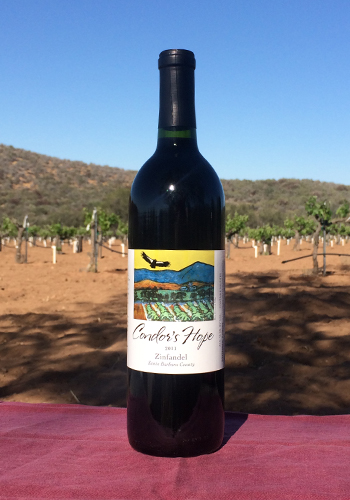 A robust red wine with fruit forward fullness. Grown with dry-farming methods in Santa Barbara County and kept in American Oak barrels for 12-20 months. Winemaker: J.P. Pawloski of River Run Vintners.
---
2014
This new release of our Zin warms your mouth with raspberry and cherry fruits forward followed by a black licorice finish. The 2014 harvest, our third year of drought, produced only 51 cases of Zin. The smaller grapes, with a higher skin to juice ratio, show the promise of a very intense, full-bodied Zinfandel. As typical of our Zins, you can drink it now or lay it down for years to come.
Retail: $21/ Case: $18/ Wine Club: $17
SHOP
2013
The second year of drought lowered yields and increased the intensity of this Zin that has the essence of black cherries with pepper on the finish. Released December 2015, it is drinking smoothly now and this classic dry-farmed Zin will develop fully with more time in the bottle. Only 65 cases produced.
Retail: $21/ Case: $18/ Wine Club: $17
SHOP
2012
Grapes harvested in their prime in a drought year. Black cherries lead to a robust, fruit-forward essence. The finish hints of chocolate with a touch of vanilla. Bottle time should give this vintage the depth and jam characteristic of drought year harvests.
Retail: $21/ Case: $18/ Wine Club: $17
SHOP
2012 "E-Z"
Drought stress and an early harvest produced a fresh 'easy-to-drink' Zin with light raspberry overtones followed by a lingering pepperiness. This unusual wine is lighter than our other vintages, with a body closer to that of a young Pinot Noir.

SOLD OUT
2011
Tastes of black cherries and tart raspberries come to mind. Soil moisture from the year before produced a well-balanced, abundant, forward fruit with a finish that hints of spicy chocolate. Full, rich mouthfeel.
Retail: $20/ Case: $17/ Wine Club: $16
SHOP
2010
Matured beautifully in the bottle. Classic fruit-forward flavors of rich raspberry and ripe blackberries. Normal rainfall and ideal summer temperatures during ripening produced this very well-balanced wine. Taking on the jammy essence of an aged Zin.

SOLD OUT