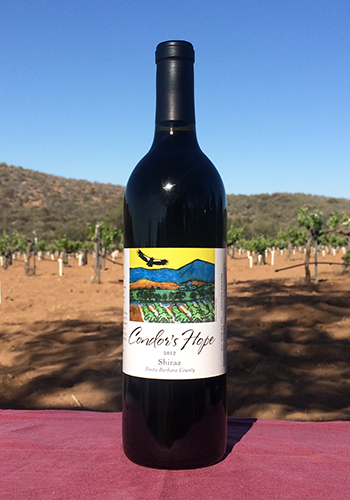 Full-bodied smoky overtones of plum. Grown with dry-farming methods in Santa Barbara County and kept in American Oak barrels for 15-20 months. Winemaker: Colin McNany of La Honda Winery.
---
2016
We are very excited to share our 2016 Shiraz with you. In 2015, the 4th year of drought, there was no Shiraz crop; so we're pleased to have limited production in 2016, producing only 23 cases. Enjoy this deep inky wine with a plum-vanilla fullness after aerating for 20-30 minutes.
SHOP
2014
This wine shows all of the best characteristics of a dry-farmed Shiraz: rich, deep, smoky fruit with a lingering spiciness of ripe plums. Our third year of drought, created a smaller grape with good tannins. This shiraz will go well with spicy, flavorful dishes. To be released early fall 2016.

SOLD OUT
2013
An extreme drought year produced very limited, high quality grapes. Whole-berry fermentation produced a Shiraz that fills your mouth with flavors of blackberry jam and cacao nibs. This will develop beautifully over time. Only 11 cases produced.

SOLD OUT
2012
Grapes grown in the first year of a drought. This wine captures the rich, deep, smoky fruit of an excellent dry-farmed shiraz with a lingering finish of ripe plums.

SOLD OUT