Welcome Spring's Wildflowers with us in the Vineyard
Saturday, March 30th, 2019
12- 5 pm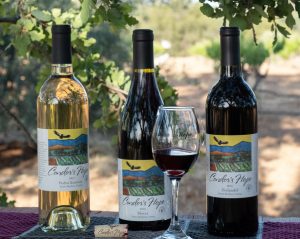 We are crossing our fingers for an abundance of wildflowers this spring! Two years ago, we were blessed with a fantastic superbloom, and we anticipate with winter's rains that there will be another one this spring. We invite you to experience the splendor of the flowers and enjoy a barbecue luncheon at our vineyard, including a nature walk with Condor's Hope's co-owner and California natural history expert, Steve Gliessman.
We'll have an in-depth conversation about our dry-farmed wines, as new and limited releases will be paired with locally-crafted appetizers, lunch and desserts. We expect to release our 2018 white Pedro Ximénez wine and our 2018 Zinfandel Rosé which we will enjoy with our old vine zinfandel and shiraz vintages.
You'll enjoy:
• Delightful appetizers
• Delicious Cuyama dutch oven lunch & desserts
• Wine tasting of new & limited Condor's Hope Wines
• Tour of our dry-farmed vineyard
• Nature walk & botanical tour
Music will be provided by the Seabright Serenaders, Paul Rangell and Emily Abbink, who play lively dance music from the old world & new inspired by Italy, Mexico, New Mexico, Puerto Rico, and the American traditions.
* Overnight accommodations are available at Condor's Hope Ranch, as well as the Cuyama Buckhorn, a local inn offering a special rate for Wine & Wildflower guests.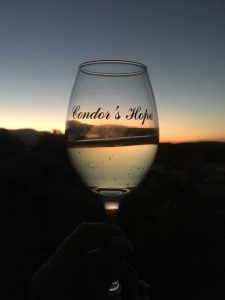 Cost:
• $80 per person
• $65 per person for wine club members
• $65 per person for LPFW members
• $55 for Cuyama residents & youth
An additional discount is available for wine club members & Los Padres Forest Watch members making reservations for 4 adults or more. Fee then is $55 per person.
A portion of the proceeds will be donated to Los Padres Forest Watch for their work to preserve and conserve the Los Padres National Forest and habitat for condors.
Space is limited. We encourage you to make your reservations now by completing the registration below.
Make a weekend of it! Spend the night at Condor's Hope or the Cuyama Buckhorn, and visit the Carrizo Plain on Sunday.
Unfortunately, we are unable to accommodate additional dogs at the vineyard.
Questions? Please contact us at condor@condorshope.com