You're invited to our Holiday Open House in Santa Cruz!
The gathering will be held at the home of wine club member Shelly Errington on the westside of Santa Cruz.
Saturday, December 14th   1:00 – 5:00 PM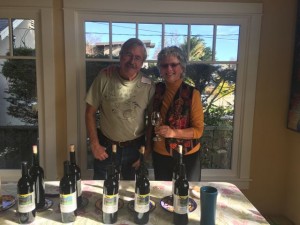 Join us in tasting wines from our new releases to some of our favorite cellared wines, along with wonderful appetizers featuring our fresh pressed olive oil .
See old friends and meet new!  We'll have traditional southwestern and Cajun music by  local favorites Paul & Emily and their friends and more:
Shelly, our hostess, is a photographer and cartoonist. She'll have greeting cards, gift booklets, and other goodies on display. Also joining us will be wine Club member Mary Flodin with the release of her new novel, Fruit of the Devil,  and Community Agroecology Network (CAN) sharing their work with rural youth and women from Watsonville to Nicaragua. You'll be able to take home gifts of wine, olive oil and lots more for the holidays.
We hope to see you there! Please let us know  by  completing the RSVP below.
Sending you our warmest wishes,
Robbie & Steve