November is Olive Harvest time!
 You're invited to join in our community harvest! 
November 8 – 11 – Veteran's Day Weekend– Harvest starts Saturday morning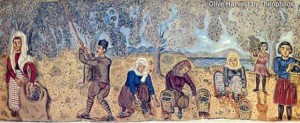 Please join us for our community harvest…when folks come together to harvest the olives.
Imagine gathering around the olive trees and hand-harvesting the fruits as has been done for centuries past. We provide the food and wine.  You join in the harvest, meet new friends and share in community.
Spend the weekend. There's plenty of space to camp in the vineyard. Several private rooms are available as well. You can arrive Friday evening and be ready to join in the harvest Saturday morning–or fit your participation to your schedule. Veteran's Day Weekend we will harvest through Monday morning and complete the harvest with a brunch on Monday.
Reserve your spot for the harvest by completing the form below. Bring your friends! There is no fee–just your good energy.
The harvest will happen rain or shine. We will confirm your reservation within 48 hours and one week before the harvest we will send you a confirmation with details.  Children are welcome. Unfortunately we can not accommodate any additional dogs.
Note: If you don't receive a confirmation within 48 hours, please email us at condor@condorshope.com . Sometimes we have not received completed forms.
We hope you can join us!
Robbie & Steve