All harvest events for our winegrapes are now full. Thank you for your interest. Look for an announcement of our olive harvest November 11-14.
Winegrape Harvests 2021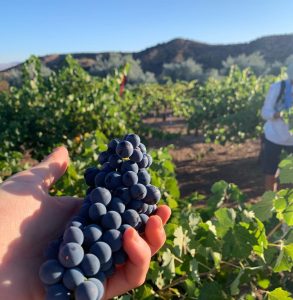 Please join us in harvesting our winegrapes!  We will host several community harvests and hope you can join us for one of them. Each harvest is planned for 2 days. We invite you to arrive the afternoon before the harvest begins.
Here's an example of a harvest schedule:
Day 1: arrive after 4 PM: have a vineyard tour and harvest instructions; set up your tent if camping; enjoy dinner and a campfire
Day 2: harvest begins early and will end by lunch. The afternoon can be relaxing and/or helping on vineyard projects. The evening will feature wine tasting and a harvest barbecue.
Day 3: continue the harvest if not completed. A possible morning hike followed by brunch and then departure.
We provide all of your meals during the harvest.  We recommend camping under the stars; some indoor rooms are available.  We will send you details and directions once you complete the registration.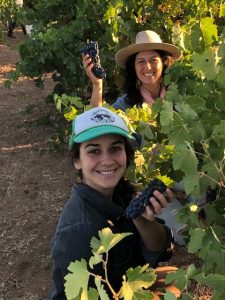 COVID-19 Safe Harvests
Our community is so important to us. To be able to hold our community harvests and do our best to keep everyone safe, we are making the following changes to this year's harvests:
• We are limiting the size of each harvest to 15-20 participants. 
• We require that all participants age 12 and older are fully vaccinated and all participants can meet and follow our COVID Safety Standards.
Please read our safety standards before completing the registration form below.
Predicted Harvest Dates
The grapes tell us when they are ready. Currently these are our predictions. Please register below and we will form harvest teams and let you know.
September 10-12 (arrive Friday afternoon, harvest  Saturday and Sunday mornings)
September 17-19 (arrive Friday evening, harvest Saturday and Sunday mornings)
September 28-30* (arrive Tuesday evening, harvest Wednesday and Thursday mornings)
October 1-3* (arrive Friday evening, harvest Saturday and Sunday mornings)
* The last two harvest dates are back-up and depend on whether ripening is delayed.
We'd love for you to join us for a delightful time of work, wine and laughter.
 There is no fee, but please be sure to complete the registration form below. We will let you know which harvest teams you are on. Families are welcome!  Sorry, no dogs are allowed.