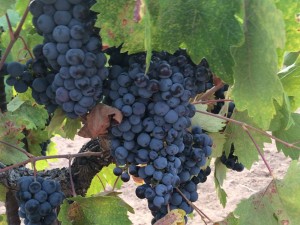 We invite you to join us for one of our community grape harvests
We will have 4 harvests between August 24th – September 27th. The grapes tell us when they are ready and then we let you know.
If you want to be notified when the harvests will be, sign up on the Contact List below.
Our community harvests are such a special part of Condor's Hope. We are adapting them this year to meet COVID-19 safety standards including:
Multiple small harvests with maximum of 10 harvesters per harvest.
All food prepared by Condor's Hope team wearing masks and gloves.
Everything outdoors with appropriate social distancing.
Participants required to wear face coverings when needed.
For more details on our Covid protocol, please click here.
Our harvests are lots of fun–you help bring in the grapes and we feast you with food and beverage.  Families are welcome. Bring your friends. Unfortunately, we cannot have additional dogs.
As we watch the grapes grow and start to color, we are beginning to plan our community harvests. Friends, families and neighbors gather with us to harvest the fruit of the vine, enjoy a wine tasting in the vineyard, and feast on a harvest barbecue. There is camping in the vineyard and several private rooms as well to stay in.
Since we will be limiting the number of harvesters to 10 per harvest, we ask that you come ready to work hard and then enjoy the festivities.   Add your name to the contact list now if you're interested in participating.  The grapes will tell us when they are perfectly ripe for the picking.  and we will notify you as soon as we have specific dates.
There is no fee, but registration is required.
We hope you can join us!
Robbie & Steve